In order to take advantage of Amazon's KDP Select marketing features, such as Countdown Deals, Free Promotions, and free lending via the Kindle Owners' Lending Library, I had to make the eBook version of Upload available exclusively on Amazon for the 90 day KDP Select membership period. On November 11, I re-listed the book on Google Play Books, Kobo, and for direct sale from Lulu. I also clicked the boxes on Lulu's distribution management page to reactivate distribution through Apple iBookstore and Barnes & Noble's Nook Books.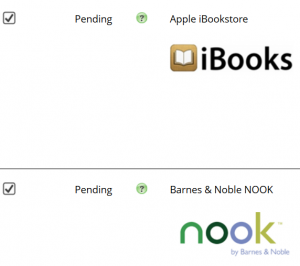 Four days later, the status on both iBooks and Nook is "Pending".
If this were a newly published book, I could see it having to go through some review & approval process before it hits the digital shelves. But this is the re-listing of an eBook. The content has not been modified since it was originally published. On Kobo and Google Play Books, where I set up distribution myself, re-listing was done within several hours. In the case of Kobo, it was actually done within less than an hour.
What's going on? Lulu re-listed the eBook immediately on their own site. I love how easy they make it to list on Barnes & Noble and iBooks. I don't have a Mac, so I can't run Apple's iBooks Author application, and it would be a hassle to borrow someone else's. But I don't love how long it takes. Is it hung up within Lulu, or is this something that's out of their hands?
In my case, the delay isn't really a big deal. Nearly all of my eBook sales are through Amazon, so it's not like I'm actually worried about lost sales. However, if your situation is different, I thought it would be good for you to know about this delay. If you're considering selling exclusively through Amazon for a period of time, to take advantage of their KDP Select program, be aware that re-listing your eBook through Lulu on iBooks and Nook Books may take longer than you would expect. (I can't speak to how long it would take if you handled distribution through these channels directly, through Apple's iTunes Connect or the B&N equivalent, since I chose not to go that route.)
Have you had a similar experience? Any tips on avoiding this?
I'll post an update when this process is done, in case you're curious about just how long this ends up taking.
Update – 11/19/2014: Both still pending.