Upload is a Winner of the ForeWord Reviews 2012 Book of the Year Award in Science Fiction, and one of Chicago Book Review's Best Books of 2014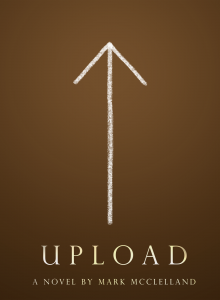 His criminal past catching up with him, a troubled young man seeks escape into digital utopia by uploading his consciousness into a computer — just as first love casts his life in a new light. In this thrilling near-future science-fiction novel, Mark McClelland explores the immense potential of computer-based consciousness and the philosophical perils of simulated society.
To escape the hacker crimes of his youth, Raymond Quan has worked out a brilliant but extremely risky scheme.  Taking advantage of his position on the University of Michigan's Human Mind Upload Project, he plans to upload his consciousness into a computer, but make it look like it failed.  It will appear to others that he died, and he can secretly whisk himself off to a remote computer and live out his life in a virtual world of his own creation, free from society and the far-reaching eye of the law.
In the midst of all this, he works up the courage to reach out to Anya, an attractive and outgoing scientist on the upload research team, and much to his surprise he discovers the attraction is mutual.  He finds himself entering the first meaningful relationship of his life just as pressures force him to accelerate his already-dangerous upload plan or risk a long prison sentence.  To make matters worse, the technology he intends to use has not yet been tested on humans — he would be the first person to make the jump to a pure-digital mind.
McClelland's ambitious debut novel envisions a future in which the vanishing line between virtual reality and "organic life" causes an antisocial genius to conduct the ultimate evolutionary experiment… The author has a particular gift for describing the technological advances, brand names, pop-cultural references and unique detritus of a society dependent on machines for survival and ravaged by virtual-reality addiction… McClelland's slick imagination remains in full gear until the novel's unpredictable conclusion.  A thoughtful tale resembling a sci-fi video game viewed in a funhouse mirror. –Kirkus Indie
The future may be in cyberspace. "Upload" is a novel exploring the concepts of mental uploading and its effects on humanity, focusing on what it could mean for love and life, exploring the philosophy of a completely online world that has conquered biology. "Upload" is an exciting work of science fiction, very much worth considering for fans of the genre who seek something discussing the effects of a possible near future technology. –Midwest Book Review
Print Edition
ISBN: 9781300335610
Page Count: 279 Pages
Publication Date: October 24, 2012
eBook Edition
ISBN: 9781300206705
Publication Date: September 18, 2012