Readers of the award-winning techno-thriller Upload are comparing it to Transcendence, starring Johnny Depp. To celebrate the April 17 release of the film, the Kindle edition of UPLOAD will be FREE 4/17 – 4/20.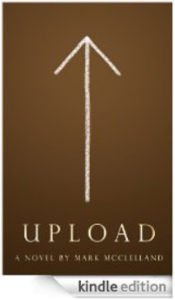 *** UPLOAD Free on Kindle 4/17 – 4/20 ***
Invite friends to the Goodreads event and the Facebook event. Help spread the word!
For a lot of people watching Transcendence, it will be their first exposure to mental uploading and the Singularity. Intrigued by the concept of humanity ditching our biological bodies and moving into computers? If you're excited — or scared — by what lies on our technological horizon, UPLOAD is a thought-provoking way to explore what this future might look like.
A winner of ForeWord Reviews 2012 Book of the Year Award in Science Fiction, UPLOAD is the story of the first person to upload his mind into a computer, an unlikely hero in an all-too-plausible tale of transhumanism and the Singularity.
To find out more about the book, check it out on Goodreads or right here on the About the Book page.
If you've already read UPLOAD and are looking for a different perspective on the same topic, check out David T. Wolf's Mindclone: When You're a Brain Without a Body, Can You Still Be Called Human?, a more humorous take on mental uploading that's been getting great reviews.