Just received this delightful postcard in the mail from Nancy Osterhaus, of Columbus, Wisconsin.  Nancy and her husband Wayne run a lovely bed & breakfast, the Columbus Carriage House, where I stayed for my recent three-day "writer's retreat".
So sorry I missed you when you left, Mark!  I sure hope you had a great trip back to Chicago.  Your book is wonderful — I'm in the staying-up-all-night-to-get-to-the-next-chapter phase!!  Good luck with your new book.  Take care — hope to see you again!
Nancy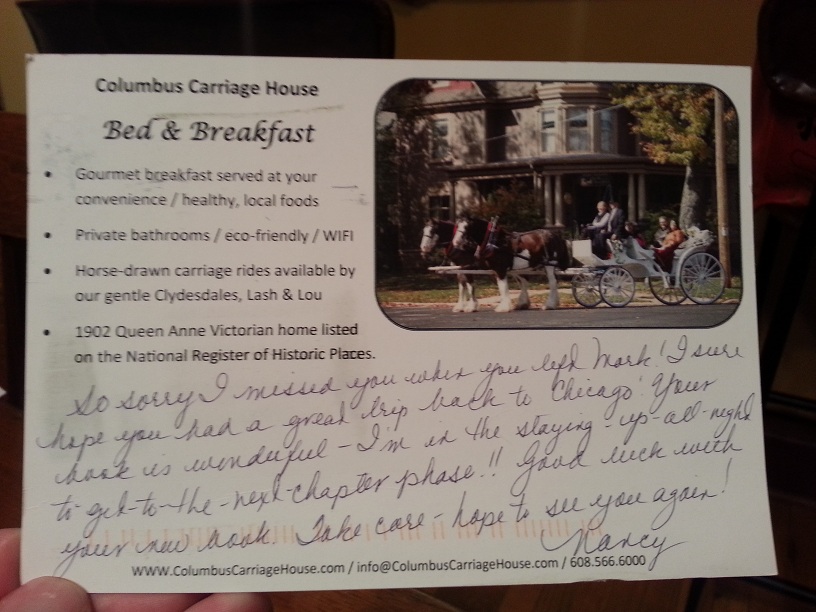 I was given the royal treatment during my stay at the B&B.  Nancy's breakfasts are beautiful, delicious, and very satisfying, and I thoroughly enjoyed our long morning conversations.  I happened to be the only guest on this sleepy December weekend, so Nancy was kind enough to join me with her coffee and have a good long chat.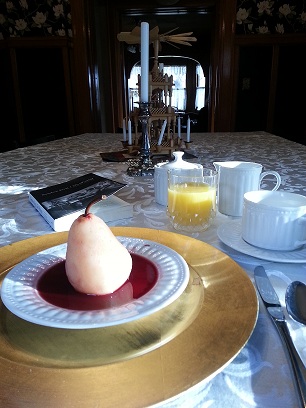 Nancy downloaded a copy of Upload to her Nook and started reading it during my stay, and I'm overjoyed to hear that it's keeping her up late.  I wanted Upload to be a book enjoyed by readers who typically don't go for sci-fi, and it sounds like it worked.  Nancy, I don't think you could have possibly known this when you were writing me, but your postcard gave me a great sense of achievement — it confirmed that I succeeded in writing a book that rightly belongs in the science fiction section, but appeals to a broad audience.
By the way, Chicago writers, if you're looking for a getaway, I highly recommend the Columbus Carriage House.  My wife did a lot of research — the weekend was a birthday gift for my 40th birthday, and she wanted to find the perfect place.  She was looking for an inn or B&B with wi-fi that was easily accessible via Amtrak, in a town where I could go for walks, have a few restaurant choices, and feel removed from the distractions of my responsibilities, social life, etc.  By taking the train, I could avoid the hassles of traveling by car or plane, and could settle into reading, writing, and reflection right away.  Of course, you don't have to be from Chicago or be a writer — anyone who lives along the route of the Empire Builder and is looking for a getaway should consider the Columbus Carriage House.  You couldn't ask for more welcoming hosts.