Thanks to Arthel Neville and producer Kevin Tracy for having me on Tech Take yesterday, a FoxNews.com program. It was a great opportunity for me to promote Upload, despite the apparent disconnect on what the interview was supposed to be about. I was expecting questions regarding computers and their potential effect on human evolution, and was caught off guard when the topic turned out to be more along the lines of how computers are affecting our brains. (It turns out hosts were switched out at the last minute, and there must have been some miscommunication.) Knowing it was live, I did my best to roll with it.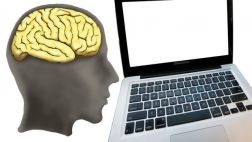 http://video.foxnews.com/v/2404866335001/computers-effect-on-the-human-brain-/?playlist_id=931078471001
This was my first TV appearance since I was on QuizBusters in high school. It turns out it's really hard for me to look at the camera when I'm sitting alone listening to an audio feed in one ear — it just feels so unnatural.
For anyone curious about the book, it's a near-future science-fiction novel about the first person to upload his consciousness to a computer. Read the About the Book page to learn more, or check it out on GoodReads. It's available at major booksellers, including Amazon, where it was recently on the Top 100 High Tech Science Fiction bestsellers list.  More info on purchasing the book on the Where to Buy page.