Click to see Upload on Kobo
I recently discovered Kobo via Goodreads.  I had just published Upload on Lulu and created a book page for Upload on Goodreads, and I wanted to see which booksellers are recommended/featured there.  The most obvious choice was Barnes & Noble, where Upload is still pending publication.  Looking through the other booksellers, I noticed two things: first, Lulu wasn't in the list (uh-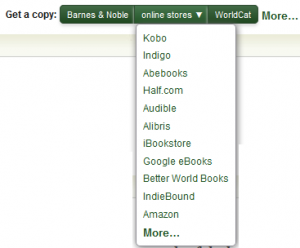 oh); and second, there was this place called Kobo which was at the top of their list.
It didn't take me long to fall in love with Kobo.  They're very indie-friendly.  It's easy to publish, they don't play hardball in their legal agreements, they match Amazon in terms of how simple it is to release your book in many countries, and they are currently featuring 80% royalties!  What took me at least an hour on Google Books/Play took me about five minutes on Kobo.  I had to wait a few days for the eBook to actually be published, but that's faster than most other sites I've been working with.  (So far, based on my experience, Lulu and Amazon are the winners in terms of making content available quickly.)
So, now when a Goodreads member gets excited about my book, they can buy it from Kobo!
I also appreciate Kobo's great philosophy, especially their desire to provide a platform-neutral eBook market.  From their website:
Read Freely is global, with over 8 million customers in over 170 countries. Read Freely is device neutral and choice-driven, allowing readers to read any Kobo eBook on any open device (or any open eBook on any Kobo-enabled device). Read Freely is flexible and content rich, with over 2.5 million eBooks in the Kobo eBookstore. Read Freely is as big as your imagination.
I'm proud to make my DRM-free book available via Kobo, and I hope you enjoy it!  (And if you do, be sure to rate it.  Good ratings and reviews are one of the best ways for an indie author to gain readership.)